Full Weekend or by Session at Kaivalya Yoga 777 University Ave.    April 5 – 7, 2013  with Alex Pfeiffer and Joe Fred Paprocki
The Chakras are an amazing body-mind map.  There are a couple ways of looking at the Chakra System.  One way is a moment-to-moment view of the chakras as human potentialities available in every moment.  This is an important view, one that we explored in our first chakra weekend.   The other view is looking at what the Chakras have to say about how to convert these infinite potentials, available in every moment, into permanent traits.  We will explore what occurs on the path of what the modern west calls neuro-plasticity or development; what the east calls the "gradual school"; and what the east-west dialogue has called Stages of Consciousness or "making permanent traits" from impermanent states.
Perhaps you've noticed that you can find states of compassion and awareness, but have had a difficult time making them a more consistent, grounded, part of your life.  This is what much of this weekend will be about.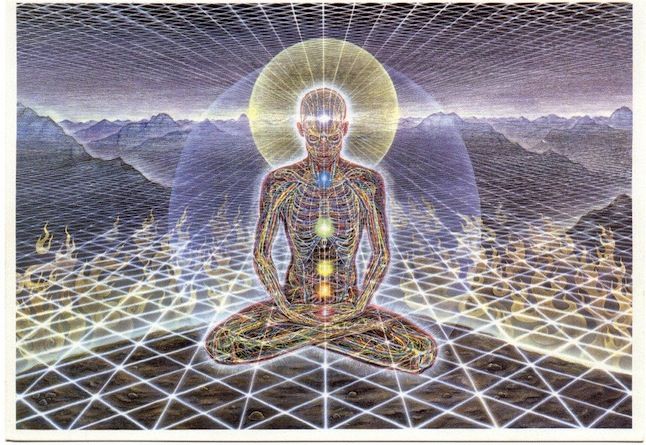 While this weekend will deepen what we covered in 
our first chakra weekend
, this weekend is open to and will still make sense to those who did not attend the February Weekend.  Those who did attend the February Weekend will gain more insight into both views of the Chakra system.
Friday April 5th
One Evening Session  
Session 1  :  The Chakra System : Grounding Potential into Development, 7 – 10pm
Alex gives an introduction to the Chakra System as a deep field of human potential.   Potential, if to be realized, must be given the proper nutrients to Develop.   We begin the journey of how to convert potentials to development.  Have you noticed that you are able to experience incredible spiritual states, but these states don't hold?   Good Development means that States are able to ground into more permanent traits.  We begin this organic journey here.
Saturday April 6th
2  Sessions
2  :  Mat Practice "Musical Journey – Live!   Through the Chakras",  9am – 12:15 with Live Musical Guest, Joe Fred Paprocki
With Live Music, we take a travel through the Chakra System on the mat and engage on the mat what is learned in the weekend's other sections.  Dive into the positive vibes focused on inspiring Love and Compassion.  Live musical soundtrack provided by the amazing Joe Fred Paprocki.
3  :   Ego, Not a Four Letter Word  1:30  –   5pm
Have you heard the term "Kill Your Ego" in yoga / alternate spiritual circles?  (What part of you do you think wants to kill your ego?)  Ask a Western Psychologist about killing your  ego and they'll assume your goal is to become a psychopath.  What Gives?  Can there be a synthesis of East and West?  Is the Ego Bad?   …. Or perhaps just misaligned.
Sunday April 7th
One Evening Session  
4  :    Ego's Spiritual Role, 3:45 – 6:45
Is Ego Bad?  We are going to suggest that it is not Ego that is the problem.  It's Ego Tension (automatic contraction), Ego's Defensiveness, and Ego's Misalignment (in a self-aware being) that is the problem.  Come discover Ego's true role as a conduit between the outside world and your true, core self.   Grounding Spiritual Reality in your life requires Healthy Ego! 
Please join us for this very unique and insightful weekend!
 Prices
$40  per session  (early bird:  4/1/2013),    $50 after
$140 for full weekend (early bird),  $160 after
Catalog prices applicable for RYS200 Trainees.
Sign up at Kaivalya Front Desk, with Alex in person, or email:   alex@integralnest.com
Free Bonus for All Full Weekend Participants  "Adikara : Development of the Yogi"  Video Series  2hrs, $49 value.  (Note:  Register in advance and get access to this video series early, as it will make the weekend more insightful!)
Alex Pfeiffer has been exploring the chakra system through bodywork and yoga since being certified in both in 2004.  He has experienced its power first hand as a method of healing old wounds and as a source of energy from which to live life from a vibrant place.
Joe Fred Paprocki
has been making a name for himself as a songwriter and performer of "heart centered" music since 2007.  With a focus on inspiring gratitude, love and peace of mind within the listener, Joe is now in the process of creating his third music album and touring the west coast with his live musical offerings while not in Madison.  
www.joefred.info