Click Here for:  What is the Chakra System?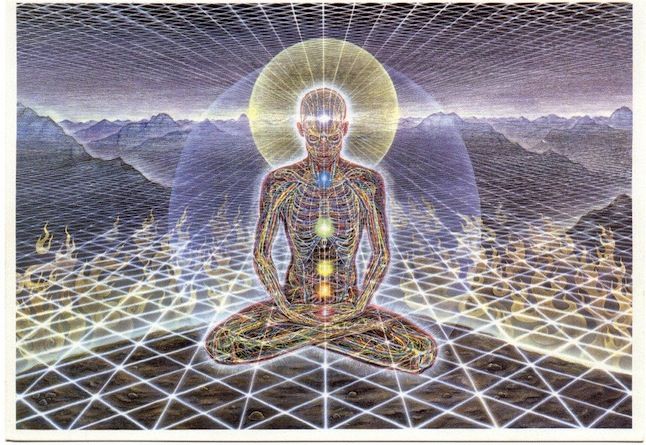 Full Weekend or by Session at Kaivalya Yoga 777 University Ave.    February 22nd – 24th, 2013  with Alex Pfeiffer & Sunday Evening guest teacher Keith Borden
This weekend will revolutionize how you see your body and your practice on the mat.  Go beyond the "body-mind connection" as an abstraction or generalization, and embody it to a dozen layers of your self!  This weekend will be a unique perspective on the Chakras as it will come largely from Alex's personal experience working with the Chakras as a yoga teacher and bodyworker and will reference only those areas that he has confirmed with other such practitioners and / or psychological studies from developmental psychology.
Friday February 22nd
One Evening Session  
Session 1  :  The Chakra System as Potentiality and Development, 7 – 10pm
Alex gives an introduction to the Chakra System that will integrate modern psychology, western scientific research, and Human Anatomy into this ancient Tantric system.   Learn the keys of bridging east and west and begin to make more sense of consciousness, energy, and spirituality in their ground of everything it means to be human… the physical body.
Saturday February 23rd
3 Sessions
2  :  
Mat Practice

"Grounding & Pleasure" for Chakras 1 & 2,  9am – 11:30am

We continue to explore the body's connection to human experience.  Have you ever felt "ungrounded" or that your were somehow becoming numb to life's pleasures?   In this morning practice you will be guided through a restoration of your foundational existence using the principles you learned on Friday:  Grounding with openness to your primal capacities to experience pleasure.
3  :  Love, Empowerment, and the Authetic Self,  12:30 – 2:40pm
Alex presents the Chakra System in more detail as it concerns the development of living a connected life.  We will navigate some of the most significant paradoxes on this road such as how can Compassion co-exist when you're angry?   … Is it co-dependence or authentic Compassion?   Love is a tricky path to follow without a map.
4  :  
Mat Practice

"Human Potential" for Chakras 3 & 4, 2:50 – 5pm

We pick up where we left off with a practice for the heart and ego.  Experience why these two ultimately need each other and amplify your raw energy to engage relationships, deep confidence, boundaries, direction, and empathy.
Sunday February 23rd
3 Sessions
5  :  Transpersonal Path : Starting Over to Embrace Your Full Humanity  9a – 11:30
Alex completes his presentation on the Chakra System by opening up the transpersonal levels of this system.  These Chakras are the foundation from which we discover our true identity moment-to-moment, and where we can make a pivot from our Unique Self to open radically to unqualifiable isness.
6  :  
Mat Practice

"Intuition & Creativity" for Chakras 5, 6, & 7, 11:45a – 2:15pm

Join us for the most unique and full yoga practice of the weekend.  Particularly for those who've been through the entire weekend, this practice will be the culmination where we are no longer in the domain of 'body-mind connection' but, instead, in the domain of 'bodymind'.

7  :  Chakra Sequencing with guest instructor Keith Borden, 3:45 – 6:45pm

And now that we've traveled through the whole Chakra System, Keith takes us home by sharing how to sequence your home practice or (for teachers!) your class, in order to find that miraculous "more than the sum of its parts"  result that will make every practice connect to deeper layers of being.  There is more to our existence than our physical bodies of levers and pulleys.  You will have learned that there is a vast, multi-layered subtle body of which the physical is simply the most familiar and visible. With this in mind we can build an asana practice designed to go deeper than this outer costume as we discuss the body's energy centers or chakras, and how to use them and positively affect them through the asana practice.

We look forward to you joining us for this very unique and insightful weekend!

Per Session Price:     $35  early bird  (by Feb 19), $45 after
Full Weekend Price:  $199 early bird  for all 7 Sessions!  (by Feb 19), $259 after

Catalog prices applicable for RYS200 Trainees.
Sign up at Kaivalya Front Desk, with Alex in person, or email:   alex@integralnest.com
Free Bonus for All Full Weekend Participants  "Adikara : Development of the Yogi"  Video Series  2hrs, $49 value.
Alex Pfeiffer has been exploring the chakra system through bodywork and yoga since being certified in both in 2004.  He has experienced its power first hand as a method of healing old wounds and as a source of energy from which to live life from a vibrant place.
Keith Borden has been the lead instructor with Laughing Lotus Yoga College, training yoga teachers since 2007.  We are honored to have him bring his expertise of sequencing using the Chakras to our training in downtown Madison!
This workshop, like every workshop we do has a 100% Money Back Guarantee   No questions asked and no disapproval or judgments   If you don't believe this is worth every penny you paid, if it doesn't rock your world, we'll refund you all the way.  There's no reason to miss!